For right or wrong, Ukrainian tycoon Ihor Kolomoyskiy has come to epitomize for many in Washington and Brussels the endemic corruption that has held Ukraine back economically and politically since its independence more than three decades ago.
The 60-year-old businessman, who is blacklisted by the United States, has over the years sent armed men to take over companies, threatened officials, cheated state-owned companies, and bought off parliamentarians to stall crucial Western-backed reforms, among other brazen acts. "He is really numero uno in terms of doing active damage. He is the one protecting corrupt interests against the reform tide," John Herbst, the former U.S. ambassador to Ukraine, told RFE/RL. But Kolomoyskiy's Teflon-like ability to escape criminal consequences for decades may have come to an end on September 2, when he was arrested in Ukraine on suspicion of fraud and money laundering in relation to a state-owned company and handed a 60-day, pretrial detention. The dramatic jailing of Kolomoyskiy, once the nation's third-richest man according to Forbes, is the latest in a series of high-profile arrests in Ukraine over the past year as President Volodymyr Zelenskiy tries to portray himself as an anti-corruption crusader.
While Ukrainian leaders have for decades promised to tackle corruption with little to show for all their talk, the issue has grown in urgency since Russia launched its full-scale invasion of Ukraine in February 2022.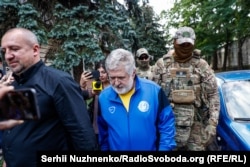 Kolomoyskiy arrives at the courtroom in Kyiv on September 2. "This is a signal that in the fight against corruption, the state is ready to take action against very influential people from big business in Ukraine," a Kyiv-based analyst said.
Ukrainian citizens, suffering from the deprivation of war, are showing little patience for graft. Meanwhile, some politicians in the West are trying to use Ukraine's reputation as endemically corrupt as an excuse to curtail crucial military aid. For both Ukrainians and their Western allies, no other arrest could send such a strong signal that Ukraine is determined to fight corruption than that of Kolomoyskiy.
"He is the most well-known name in Ukraine and abroad to showcase the fight against corruption," Tetiana Shevchuk, a lawyer with the Anti-Corruption Action Center, a Kyiv-based NGO, told RFE/RL.
It was always toxic for Zelenskiy that the oligarch closest to him was being investigated by the United States."
In an interview with Current Time — the Russian-language network run by RFE/RL in cooperation with VOA — Vladimir Fesenko, a Kyiv-based political analyst, said his arrest was "a demonstration that there are no untouchables." Ukraine is scheduled to hold elections in the spring of 2024 and, while the war could push it back indefinitely, the spate of corruption-related arrests will undoubtedly bolster Zelenskiy's ratings.
For those politicians in Washington who back aid to Ukraine, Kolomoyskiy's arrest is a "wonderful talking point," Herbst said.
Congress is currently debating whether to approve President Joe Biden's $40 billion emergency spending bill, more than half of which will go toward crucial military and humanitarian aid for Ukraine as it tries to drive Russian forces out of its territory. A vocal minority of Republicans have balked at giving so much aid to Ukraine, often highlighting the country's notorious reputation for corruption despite notable improvements in anti-graft reform and investigations.
Kolomoyskiy is arguably the most notorious of the Ukrainian tycoons who emerged from the wreckage of the Soviet Union's collapse and snapped up former state assets at rock-bottom prices, sometimes deploying extralegal or violent methods.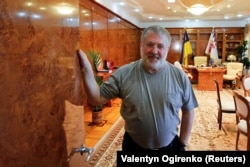 Kolomoyskiy, the former governor of the Dnipropetrovsk region, poses for a photo in his office in Dnipro in May 2014.
A native of Dnipro, a major industrial city in southeastern Ukraine, Kolomoyskiy has owned banks, energy firms, metals companies, airlines, and one of the nation's most influential television channels. Over the years, as they consolidated their assets, many of the original tycoons tried to clean up their image, stepping back from bare-knuckle tactics. Kolomoyskiy, for the most part, did not, experts say. Until Russia's 2022 invasion of Ukraine, those tycoons wielded immense power behind the scenes, using their wealth and media assets to win the loyalty of politicians, judges, and parliamentarians and push policies that benefited their companies. Kolomoyskiy's television station backed Zelenskiy's presidential election campaign in 2019 and is credited with helping the political novice win in a landslide against the incumbent, President Petro Poroshenko.
It raised alarm at home and abroad that Zelenskiy might be beholden to Kolomoyskiy, especially after he tapped the tycoon's former lawyer as his chief of staff. Foreign executives working in Ukraine feared it represented "a return to the old ways of doing business," according to a 2019 U.S. Embassy cable. Zelenskiy continued to be dogged by suspicion even after he passed legislation hurting Kolomoyskiy's interests.
The pressure on Zelenskiy to publicly distance himself from the notorious tycoon only grew after the FBI announced in August 2020 that it was investigating Kolomoyskiy for allegedly embezzling hundreds of millions of dollars from his Ukrainian bank and using the proceeds to purchase commercial real estate in the United States. Seven months later, the U.S. State Department blacklisted Kolomoyskiy for corruption and undermining democracy at home, in what many experts viewed as a signal to Zelenskiy to bring him to heel.
"It was always toxic for Zelenskiy that the oligarch closest to him was being investigated by the United States," Shevchuk said.
In 2021, Zelenskiy signed into law an "anti-oligarch" bill that essentially gives tycoons a tough choice: either refrain from politics or sell your media assets. However, the bill was criticized by experts at home and abroad as a "populist" measure that could be abused to target political opponents or their backers. The bill was part of a broader campaign that Zelenskiy called "de-oligarchization," or the curtailing of tycoons' power.
Then-Ukrainian President Petro Poroshenko (left) meets with Kolomoyskiy in Kyiv in March 2015. One analyst says that Kolomoyskiy's ties to current President Volodymyr Zelenskiy have been exaggerated. He didn't so much support Zelenskiy as he sought the ouster of Poroshenko.
In a 2021 report, Andrew Wilson, a Ukraine expert at the European Council on Foreign Relations, said the "key test" of Zelenskiy's campaign to rein in tycoons would be how he handled Kolomoyskiy.
"The Ukrainian government had to pursue [Kolomoyskiy] to demonstrate its reformist credentials to the U.S.," he wrote at the time. As Zelenskiy pursued his campaign, Kolomoyskiy appeared to carry on as usual. Former U.S. Ambassador Herbst told RFE/RL that "it was Kolomoyskiy who seemed to act as if he could do what he wants." The tycoon continued his fight to recover Privatbank, the nation's largest lender, which was taken over by the state in 2016 after the central bank said it was on the verge of bankruptcy. The West, which has given billions of dollars over the years in financial aid to Ukraine, vehemently opposed any move to return Privatbank to Kolomoyskiy.
Kolomoyskiy was also making new enemies. According to Forbes' sources, Zelenskiy's administration was angered that Kolomoyskiy did not step up enough in the early phases of the 2022 war to help the government financially. The tycoon did play a large role in helping Ukraine defend its territories in 2014-15 when Russian fighters first tried seizing land.
Five months after the start of Russia's 2022 invasion, rumors spread that Zelenskiy had revoked Kolomoyskiy's Ukrainian citizenship, though there has never been confirmation from either side. As Ukraine does not extradite its own citizens, such a move potentially opens the door to Kolomoyskiy's extradition to the United States should the FBI ever file criminal charges.
Analyst Fesenko said that Kolomoyskiy's ties to Zelenskiy had always been exaggerated. He didn't so much support Zelenskiy as he sought the ouster of his nemesis, Poroshenko, he said. In a clear reference to Kolomoyskiy's arrest, Zelenskiy thanked Ukrainian law enforcement for bringing cases to court "that have been hindered for decades." While Kolomoyskiy's arrest sends a strong message, there are still voices who doubt the sincerity of Zelenskiy's commitment to the anti-corruption cause. Western officials have long viewed the Ukrainian Prosecutor-General's Office, the security services (SBU), and the courts as mired in corruption and incapable of going after high-profile figures. No tycoons had ever been convicted by a Ukrainian court. In exchange for much-needed financial aid following Ukraine's 2014 revolution, the West required Kyiv to create independent anti-corruption bodies.
But rather than being seen as onboard with those initiatives, Zelenskiy set off alarm bells in the West with what appeared to be attempts to control these new, supposedly independent institutions. After failing to put his preferred choices at the helm of the anti-corruption bodies, two weeks ago, Zelenskiy proposed equating large-scale graft to treason. That would allow the SBU, which is overseen by the presidential administration, to take over cases from the anti-corruption bodies, experts said. The president's plan was met with pushback from activists and officials at home and abroad.
In a possible sign of Washington's concern about the proposed legislation of equating graft with treason, U.S. national-security adviser Jake Sullivan met at the White House on September 1 with the heads of the anti-corruption institutions to discuss "safeguarding [their] autonomy."
The following day, Kolomoyskiy was detained by the SBU.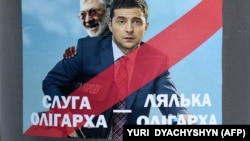 A placard depicting Kolomoyskiy and then-presidential candidate Volodymyr Zelenskiy in Lviv in February 2019. It reads: "Servant of Oligarch, Doll of Oligarch." Kolomoyskiy's television station is credited with helping the political novice win in a landslide against incumbent Petro Poroshenko.
The Ukrainian anti-corruption investigative body NABU, which had been investigating Kolomoyskiy since 2019, announced on September 7 that Kolomoyskiy was a suspect in a case involving alleged embezzlement at Privatbank. Fesenko said he expects to soon see more examples of this type of competition between the independent, anti-corruption institutions and the SBU over high-profile corruption cases. As for Kolomoyskiy's future, analysts are hesitant to predict what will happen next. Herbst said Kolomoyskiy is "not the type of personality who backs down."
And Fesenko said the tycoon has the resources and the lawyers to drag out the case in Ukraine for a long time.
"The topic of Kolomoisky is not closed. I think this is just the beginning of this [television] series," he said.
The post Kolomoyskiy Arrest Seen As A 'Key Test' Of Zelenskiy's Anti-Corruption Campaign first appeared on The News And Times – thenewsandtimes.com.