My cantor doesn't talk unless she has to in the week leading up to the High Holidays.
Until we discussed it, I wondered if she takes this vow of relative silence as a spiritual exercise, to focus herself before she pleads the congregation's case to God. But I also considered that she simply needs to preserve her vocal chords for seven demanding services. A cantor on Rosh Hashanah and Yom Kippur is like Taylor Swift in concert — except cantors sing for many more hours.
Either way, I couldn't imagine it. She's got three young boys. How many days can a parent go without shouting "Don't forget your lunch!" or "Who left their socks in the living room?"
Before her rehearsal schedule kicked into high gear this summer, I asked Cantor Arianne Brown of Congregation Adas Israel in Washington, D.C., to explain the not talking, and what else she does to prepare for the most important 10 days on the Jewish calendar, physically and spiritually. How does she ready herself for the concentrated soul-searching, the singing sans water, the time away from her family?
I asked other cantors too — five in all — from three streams of Judaism.
They told High Holiday disaster stories and the lessons they had learned from them. They showed me the spreadsheets that track who sings what and when and in which key. And, when asked, they shared advice for the people in the pews. My favorite came from Hazzan Alisa Pomerantz-Boro of Congregation Beth-El in Voorhees, New Jersey.
"Put yourself in the game," she said. "You're not the audience."
Here is some of what else they had to say.
Born to it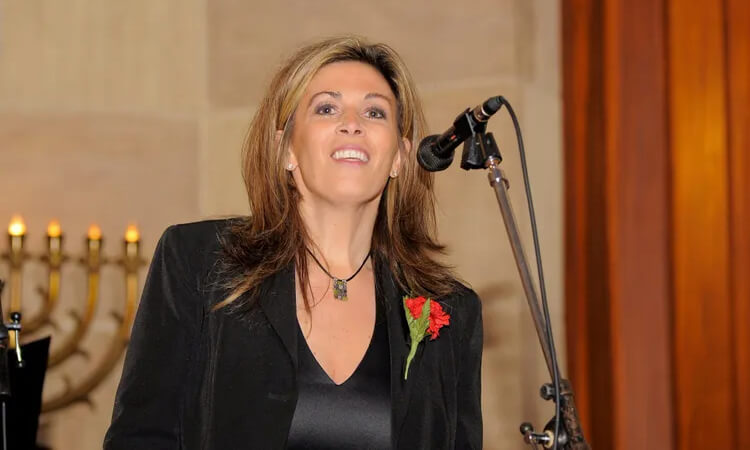 Alisa Pomerantz-Boro is the cantor at Temple Beth -El in Voorhees, New Jersey Courtesy of Alisa Pomerantz-Boro
HAZZAN ALISA POMERANTZ-BORO
Age: 58
Synagogue: Congregation Beth-El, Voorhees, New Jersey
Movement: Conservative
Voice: Mezzo-soprano
It used to bug Hazzan Alisa Pomerantz-Boro that during the High Holidays some congregants would just sit there, mouths closed, prayer book closed, the picture of disengagement.
But last summer, after reading a book called The Power of Moments, she realized that it's unrealistic for every moment of a service to move everyone in the room. So she will be content this year, during the holidays, if everyone goes home with at least one.
"So what are they going to remember?" she said. "Maybe it's the Hineni? Maybe it's the little 8-year-old boy who had a little solo? Maybe they'll remember something the rabbi said."
Pomerantz-Boro, who graduated from the Jewish Theological Seminary just a few years after it began conferring the cantorial degree on women, has been preparing for the upcoming holidays since May. Five services at her synagogue will rely on Torah readers, about 40 of them, ranging in age from just bat mitzvahed to septuagenarian.
Her job, as she sees it, is to get everyone else and everything ready. Make sure the readers know their portions. Roll the Torahs to all the right spots. Change their mantles to the white ones. Assure the sound system will bring the experience to everyone listening in person and at home.
But she herself? Not nervous.
"I can do the High Holidays in my sleep," said Pomerantz-Boro, whose father was a rabbi. "I come from a family of clergy and I've been doing High Holidays since I was, you know, prenatal."
There's another reason she doesn't sweat the High Holidays. Her daughter, Rebecca, now grown, had a massive stroke in utero and spent her first two years in the hospital. Pomerantz-Boro's husband brought Rebecca up to the ark during the High Holidays when she was a toddler.
"And we opened up the ark, and she went 'wooooowww!'" said Pomerantz-Boro, recalling her daughter's wonder when she saw the Torahs.
"Her whole birth and perspective on life changed my life," she said. Even at the most important and crowded services, the hazzan conjures Rebecca's awe and remembers why she became a hazzan in the first place.
"I'm just grateful," she said, "that I have this awesome responsibility for my congregation."
Five notes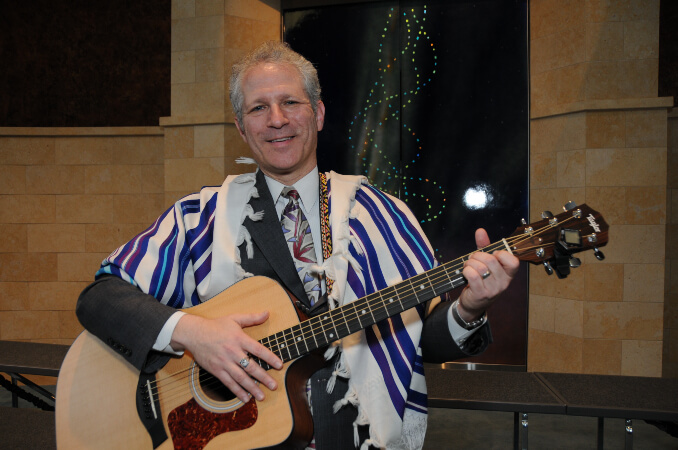 Cantor David Lipp of Congregation Adath Jeshurun in Louisville, Kentucky Photo by Lisa J. Huber
CANTOR DAVID LIPP
Age: 62
Synagogue: Adath Jeshurun, Louisville, Kentucky
Movement: Conservative
Voice: Tenor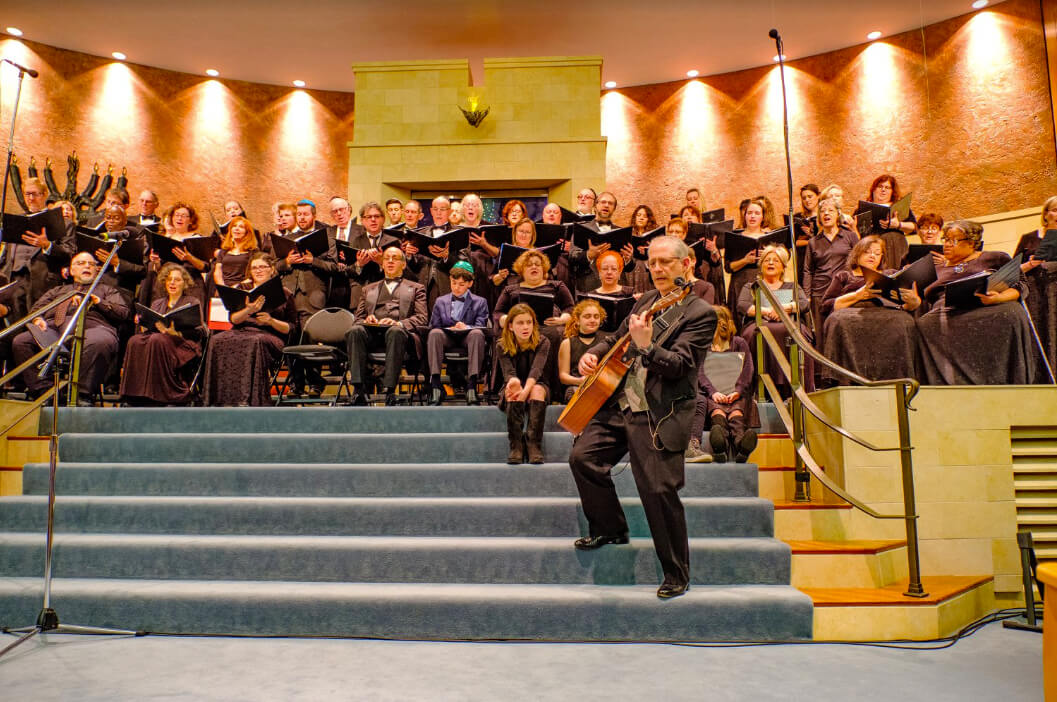 Cantor David Lipp in concert Courtesy of David Lipp
David Lipp felt off during Kol Nidre, the service that kicks off Yom Kippur. "I got through it," he said, "but it was hard." Musaf the next day was harder. And then he braced himself for Neilah, the last service of Yom Kippur, the most intense and sacred. Symbolically, it's when the gates of heaven are closing, and God is making the final decisions about Jews' fates in the new year.
Typically, despite Neilah's solemnity, and the fact that he has not consumed food or water for a day, Lipp usually has little trouble rising to its challenge. "You can see the end, right? There's just a burst of adrenaline and suddenly I'm singing better than I expected."
But not that Yom Kippur.
"By the time I got to Neilah I basically had five notes of my range, and you know, I don't have a huge range under normal circumstances — an octave and a half at least and a little more if I'm lucky."
Dizzy, he broke the news to the choir, because they would sing Neilah with him. "I don't have much of a voice," he told them. "It's going to be high and it's going to be low and it's going to be crazy. Just do the best you can and don't worry about it."
After the shofar blast that concluded the Yom Kippur service, many in the congregation seemed to have no idea that Lipp had sung with practically no voice. But several musically inclined people came up to him to ask if he was alright. One of them told Lipp that he had never sung with more kavanah, or intention.
Lipp knew what that congregant was talking about. He felt it too. "I was concentrating so hard to make it work," he said. "My prayer in some ways was more authentic than it ever had been since, or it was before."
His voice's failure happened more than a decade ago, and Lipp doesn't want it to happen again. But he does want to reclaim the power he transmitted to the congregation that day.
Every year, he said, "it's something I try to capture."
'Full body workout'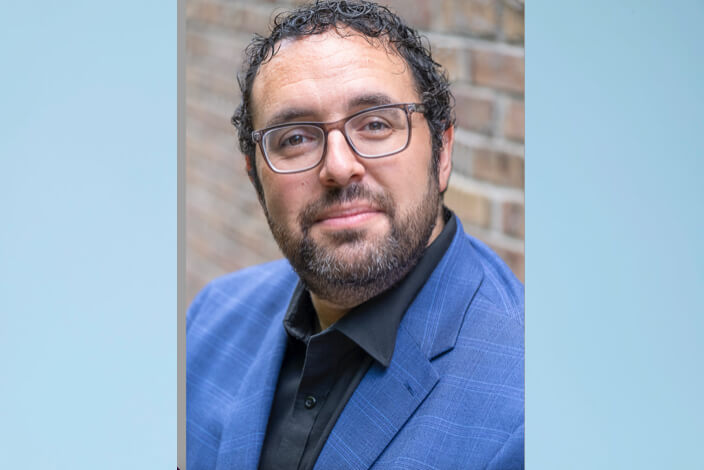 Cantor Adam Berger of KAM Isaiah Israel Congregation, Chicago Courtesy of Cantor Adam Berger
CANTOR DAVID BERGER
Age: 43
Synagogue: KAM Isaiah Israel Congregation, Chicago
Movement: Reform
Voice: Tenor
David Berger and his husband, a rabbi at a synagogue 10 miles from his own, sit down with their calendars many weeks before the High Holidays to make sure they've got babysitters lined up so nothing falls through the cracks for their sons, ages 10 and 4.
Berger, who has been leading services since his student days at the University of Illinois, schedules as many as three rehearsals a week with both the professional and volunteer choirs in his synagogue in the weeks before Rosh Hashanah. They take on particularly challenging music, much of it written by Max Janowski, the noted composer and music director of KAM Isaiah Israel Congregation until he died in 1991.
"His music for the High Holidays is super, super vocally intense and dramatic," said Berger. "A lot of big notes and extreme singing."
To make sure his voice is up to the task, he warms up extra carefully for rehearsals, and downs copious amounts of water.
He also tries to write new arrangements each year to complement Janowski's. It all gets organized, scrupulously, into music binders — "the most perfect binders," he said. "I'm obsessed." Berger used to hate the "chicken scratch" that passed for sheet music handed to him when he used to sing in the chorus.
So each year he retypes almost every piece, and triple-checks that it's in the right key. He remembers the time, as a chorister, when he was told to "just sing it a third higher," forcing him to transpose the notes on the paper in his head. Berger won't inflict that on anyone.
He gets obsessive about his health too. "I am terrified of the tiniest little thing I feel in my throat." And he struggles with chronic pain, so he schedules more physical therapy appointments than usual to limber him up for the Days of Awe, which he calls a "full body workout."
Five years ago just before Yom Kippur he did get sick, with a croupy virus transmitted by a relative who came to stay for the holidays. It robbed Berger of his speaking voice, but he was able to sing for the most part, and took full advantage of every break. "I would come off the bima and do a quick Neti Pot."
He's exacting, he said, because he wants the music to resonate far beyond Rosh Hashanah and Yom Kippur. He wants the music to "get deep into the construction of who we are as a people" and showcase "the otherness of what it is to be Jewish."
"I believe really strongly in sound as a builder of identity and ethnicity," Berger said. "I still have the sounds of my synagogue growing up deep inside me."
The last drop of water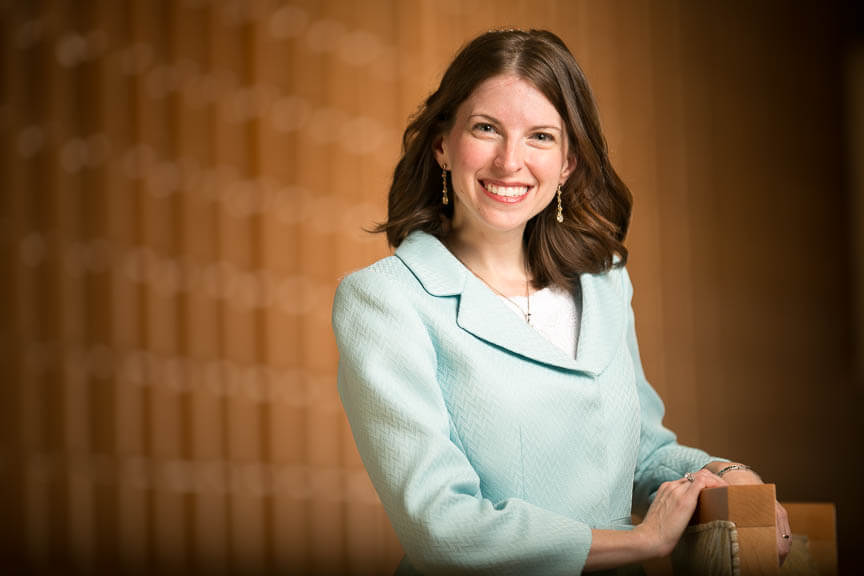 Cantor Arianne Brown of Adas Israel Congregation in Washington, D.C. Photo by Kristina Sherk Photography
Arianne Brown
Age: 43
Synagogue: Adas Israel, Washington, D.C.
Movement: Conservative
Voice: Soprano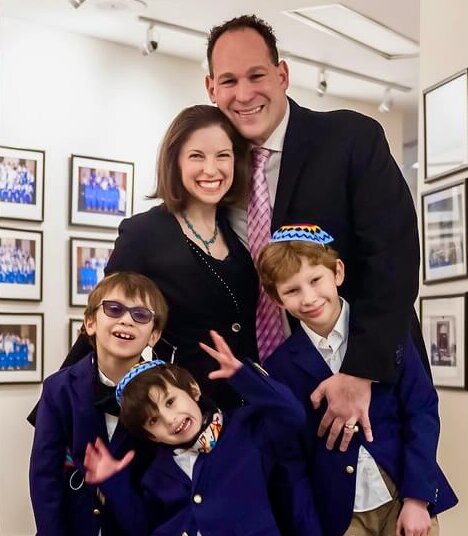 Cantor Arianne Brown with her husband, Rabbi Randi Brown, and their sons. Courtesy of Cantor Arianne Brown
Arianne Brown doesn't literally stop speaking in the weeks before the High Holidays, which she also likes to call "the cantor's Olympics." But she's not going to talk more than she needs to. Her boys — 11, 9, and 6 — get that. For a few weeks, she'll leave all their bedtime stories for their father to read to them.
The same goes for her daily chats with her mother and sister. Before the holidays, they'll text instead.
"I feel like I've been blessed by God to do what I do. And I need to use my gifts to give the holiday to the congregation in the best way I can," she said.
Whispering is not an option. It's bad for your vocal chords, she explained. "It doesn't allow them to fully close."
As Brown protects her voice, she guards her overall health, avoiding crowds whenever she can. That means going to work — she rehearses for months with the synagogues' musicians and choirs — but leaving the grocery runs to her husband and joining open school night by Zoom.
The pandemic in some ways made it easier for her to evade germs, she said, in that it's far more normal to wear a mask now and people understand why she  passes on invitations to group gatherings.
On the day before the High Holidays themselves, Brown takes her machzor home, and steals time to prepare herself spiritually. She'll read through it, singing in her head.
She drinks "crazy" amounts of water before Yom Kippur. The fasting part doesn't phase her. But singing all day and into the night without water so daunts her that she wrote a prayer for cantors, The Last Drop of Water, about that final moment of hydration before High Holiday services begin. An alumnae of the Folksbiene Yiddish Theater, Brown wrote it in both Yiddish and English.
It begins: "May it be Your will that this last drop of water shall sustain me threefold, that my Kol Nidre shall be received with favor in the studyhouses above and below."
Free of charge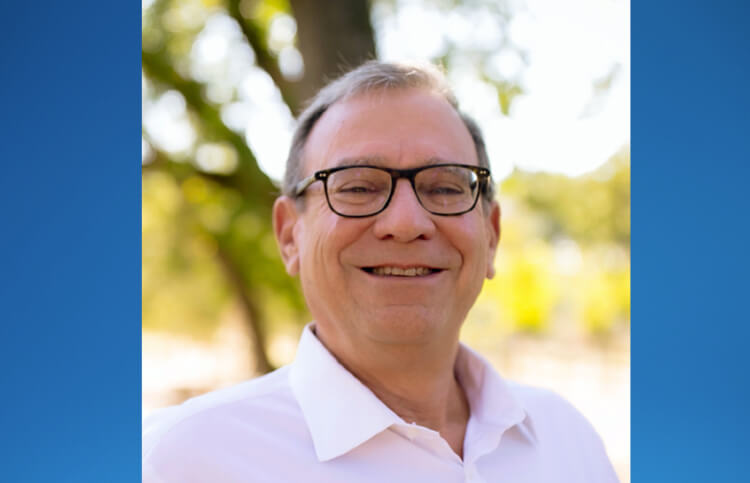 Cantor Josh Sharfman of B'nai David in Los Angeles Courtesy of Cantor Josh Sharfman
Josh Sharfman
Age: 66
Synagogue: B'nai David, Los Angeles
Movement: Orthodox
Voice: Baritone
Josh Sharfman "davened for dollars" only once. For years the lay cantor, who teaches computer science at a Los Angeles Jewish day school, chanted the High Holiday liturgy as a gift to his congregation. Then, that one year, he sang it at a shul that was not his own — for money.
"Boy was that an empty experience," said Sharfman, 66. "How can I be a Shaliach Tzibur when I'm a mercenary?" he asked, using the Hebrew phrase for prayer leader. "I don't know the people. I'm not channeling them."
Sharfman started leading High Holiday services in his teens, when his primary concern was whether he was getting the words and the notes "absolutely on target and perfect."
Decades later, his voice — though still rich and resonant — has lost some of its strength. He's fine with that, he said, and enriches his chanting with kavanah, or intention, by making the words more meaningful for himself and, by extension, the congregation. Each year before the High Holidays, he picks a theme to think on as he prepares. This year it's "transitions," and reflects the many in his life right now, among them his anticipated semi-retirement and the expectation of a fourth grandchild.
Most people in the congregation won't know about his theme. He tells a group of close friends, though, and he'll go out to lunch with his rabbi beforehand and fill him in.
It wasn't until he was in his 40s, Sharfman said, that he came to understand that it wasn't selfish to spend time thinking about his own life as he prepared to lead the congregation on the High Holidays. It was essential. The liturgy itself taught him that — specifically, the part of the Avodah service on Yom Kippur that addresses the high priest's confession. It's a three-parter. The high priest confesses on behalf of himself, on behalf of his family and on behalf of the congregation.
Sharfman likens it to the speech you get from a flight attendant before the plane takes off. "If you're traveling with a young child or someone who needs your assistance, be sure to put your face mask on first." You can't serve other people, he said, if you haven't made sure you're OK first.
The realization empowered him to turn inward. "Am I the best partner I can be to my wife? Sharfman asks himself. "Am I the best parent I can be to my children?"
The post Avoiding germs, guzzling water, searching their souls: How 5 cantors prep for the High Holidays appeared first on The Forward.
The post Avoiding germs, guzzling water, searching their souls: How 5 cantors prep for the High Holidays first appeared on The News And Times – thenewsandtimes.com.