More than 40,000 people, including hundreds of Jewish civic and religious groups, marched along floats, bands and dance troupes on Sunday in the annual Celebrate Israel parade down Manhattan's 5th Avenue.  
In its 59th year, the parade reflected the political upheaval in Israel over the government's proposed judicial overhaul with protesters chasing down Israeli cabinet ministers who participated, and a large group of pro-democracy activists marching along the route. 
The annual spectacle, organized by the Jewish Community Relations Council of New York, was also attended by senior New York politicians – including New York Gov. Kathy Hochul, New York City Mayor Eric Adams, Attorney General Tish James and Senate Majority Leader Chuck Schumer, who had to forgo his traditions of shouting "am yisrael chai" into a bullhorn because the battery broke.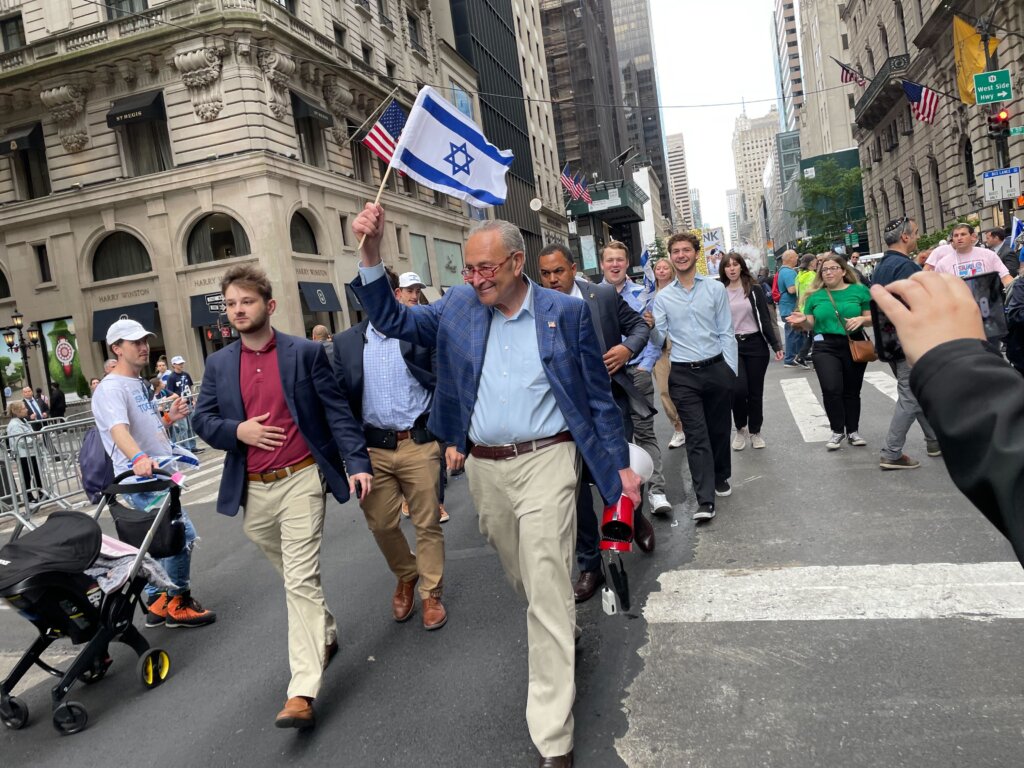 Sen. Chuck Schumer (D-NY), the Senate Majority Leader, marching in the Celebrate Israel parade on June 4, 2023. Photo by Jacob Kornbluh
"This year's parade was raucous, joyful, and exuberant — just like the Jewish people, just like Israel, and just like New York," said Gideon Taylor, JCRC's chief executive. "In a time of fragmentation, voices from across the Jewish world were there to show hope for the future of Israel."
Amichai Chikli, Israel's minister of diaspora affairs, repeatedly engaged with protesters lined along the route who were partitioned off from the marchers by barricades and chanted "Shame! Shame!" At one point, Chikli was pictured holding the middle finger, a gesture that was perceived as disrespectful by the protesters. He insisted it was a signal to "smile" in celebration of Israel's 75th anniversary.
.@AmichaiChikli to the pro-democracy protesters across the barriers pic.twitter.com/g69jsXOf58

— Jacob N. Kornbluh (@jacobkornbluh) June 4, 2023
Galit Distal, the minister of information, and Member of Knesset Simcha Rothman, chair of the law committee who played a leading role in the judicial overhaul legislative process, was also shouted down by protesters. At least nine ministers traveled to New York over the weekend for a series of meetings and conferences. Israeli media reported that Prime Minister Benjamin Netanyahu advised some of the ministers not to participate to avoid a negative reaction. 
Israel's opposition leader, Yair Lapid, tweeted that the Netanyahu government "never ceases to embarrass us in the world."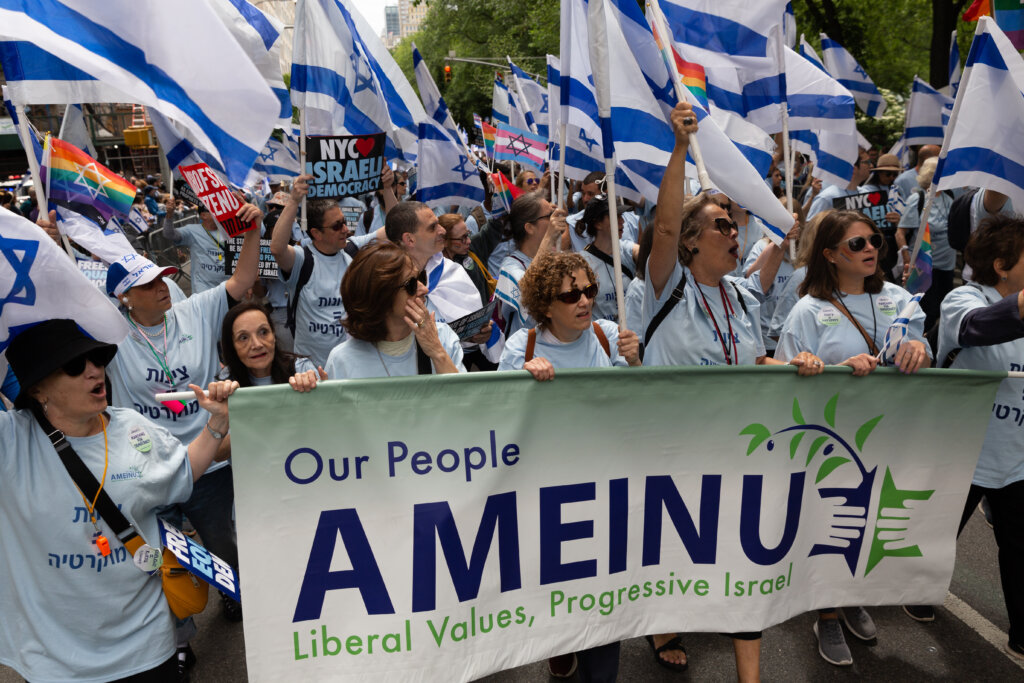 Photo by Matthew Litman
Rep. Jerry Nadler, a Democrat from New York and the dean of the informal congressional Jewish caucus, marched with a progressive Jewish group, "Ameinu: Our People," who wore T-shirts that read "Zionism equals democracy" and "Marching for democracy," in solidarity with the protest movement in Israel, now in its 22nd week. Nomi Colton-Max, Ameinu's chair, called the event "a huge success" in an effort for American Jews "to open their eyes about the situation in Israel."
Also joining the group was Manhattan Borough President Mark Levine and Assaf Zamir, the former Israeli consul general of New York who resigned in protest in March for refusing to get in line behind the judicial overhaul. 
Earlier on Sunday, in remarks at the Met Council legislative breakfast in Midtown Manhattan, Nadler compared the "great existential challenge" Israelis are currently facing to the 1861 crisis of American democracy, the beginning of the Civil War.
"The crisis is a divisive one in the Jewish community as you can hear," Nadler said, amid light boos from the crowd, "but it is a critical one." 
Also marching in the parade was Robert F. Kennedy Jr., a challenger to President Joe Biden for the Democratic presidential nomination in 2024 and a vaccine skeptic who has associated himself with conspiracy theorists. Last week, Kennedy came under fire for tweeting his support for Roger Waters, the former Pink Floyd frontman known for his anti-Israel views, who dressed up as an SS soldier and used Holocaust imagery at a recent concert in Berlin. He later deleted the tweet. Rabbi Shumley Boteach, who hosted Kennedy on Saturday and accompanied him on Sunday, said the Waters tweet was a misunderstanding.
"My family was a champion of Israel and I am going to be the best champion that Israel has ever had in the White House," Kennedy — the son of former U.S. attorney general Robert F. Kennedy and the nephew of former President John F. Kennedy — said, after asking for this reporter's phone to pose for a selfie.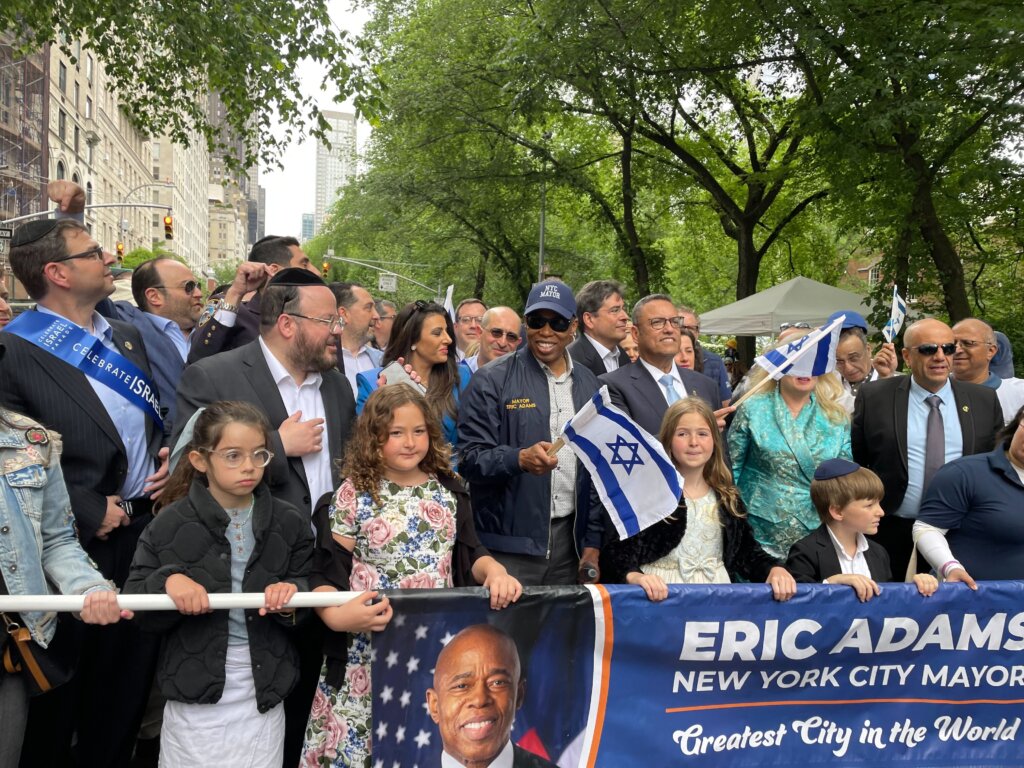 New York City Mayor Eric Adams at the Celebrate Israel parade on June 4, 2023. Photo by Jacob Kornbluh
Mayor Eric Adams, who marched alongside Jerusalem Mayor Moshe Leon, referenced a city northwest of Israel's capital. "We consider ourselves to be the Tel Aviv of America," Adams said, adding that as mayor he will not "allow the voices of hate to divide us."
The post Israel's judicial strife showcased at Celebrate Israel parade in New York appeared first on The Forward.
The post Israel's judicial strife showcased at Celebrate Israel parade in New York first appeared on The News And Times – thenewsandtimes.com.