JERUSALEM — Shimon Barak, a 72-year-old farmer from a moshav near Israel's border with the Gaza Strip, usually only sells his red, pink and white geraniums to commercial greenhouses. But on Thursday he made the two-hour trek to Jerusalem to sell his wares directly to customers for 25 shekels — a bit less than $7 — a plant.
"Every plant that leaves here, I give it a blessing, and I am happy it found a new home," Barak said with a smile. "I try to tell people how to take care of the plants which can bloom 11 months a year."
Barak was one of 17 farmers from what Israel's call the Gaza Envelope who filled the garden of Hansen House, a former leper colony turned cultural center and museum in Jerusalem's Talbiya neighborhood. Hundreds of Jerusalems packed the makeshift market on Thursday afternoon to buy their juicy red tomatoes, skinny bright green cucumbers and preternaturally large mangos.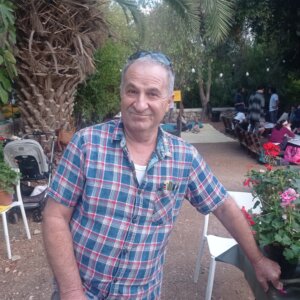 Shimon Barak, 72, who raises geraniums on a moshav near the Gaza Strip, sold his flowers at a Jerusalem market. Photo by Linda Gradstein
The market is one of dozens that have sprung up around Israel to help the hard-hit farmers. The war has disrupted everything, and many farmers need new ways to sell their crops. Thousands of Israelis have also been volunteering on the Gaza-area farms themselves, some funneled through schools and workplaces, to harvest the crops.
Most of Israel's 30,000 Thai workers fled the country after the Oct. 7 terror attack in which 32 Thai were among the 1,200 people Hamas slaughtered and another 24 are among those believed held hostage, including one who gave birth in captivity.
The vibe at Hansen House Thursday was laid-back as customers would their way through the stands. It was crowded but everyone was smiling. Friends greeted each other with hugs.
Barak was one of the few farmers who'd brought his wares personally. Most of the stands had volunteers doing the selling instead.
"When we spoke to the farmers they said, "We can't come to Jerusalem, every minute we have we are harvesting,' so we decided on this model," explained one of the organizers, Tami Krispin. "We brought the vegetables here, unloaded the trucks, set all this up, and the payment goes directly to the farmers."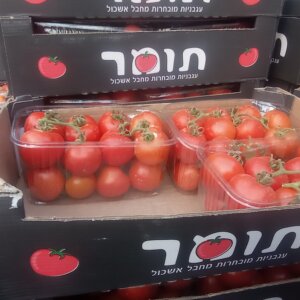 Juicy tomatoes were among the wares at a Jerusalem farmer's market selling goods from the communities near Gaza hardest hit by the war. Photo by Linda Gradstein
The market was the brainchild of a group of friends, some in wheelchairs, who do social projects together. "Since some of us are in wheelchairs," Krispin explained, "we couldn't go to work in the fields, so we decided to host a market."
Word spread via Facebook to people like Michal Kohn, who spent the day selling someone else's tomatoes.
"I think it's not just about buying fruit and vegetables," she said between customers. "People's hearts are warmed by what they see. There's a feeling of community and families coming to support not only farmers but each other, and its beautiful."
Indeed, Ilana Nelson said: "I came to buy vegetables for Shabbat and to support the farmers." She was carrying an open box full of brightly colored vegetables: peppers to cut up for the kids, fennel, eggplant and potato to roast.
"It's really nice stuff, better than the grocery store and I even got organic produce for way cheaper than it is in the grocery store," Nelson said. "I hope they do this every week."
Barak, the geranium farmer, said that his 1,100-resident moshav, Ein HaBsor, was one of the few communities near Gaza that managed to repel the Hamas militants who broke through the border fence on what Israelis now call Black Shabbat. He said the moshav's security squad of 80 people, mostly graduates of elite army units, assembled at the community's fence before the terrorists arrived.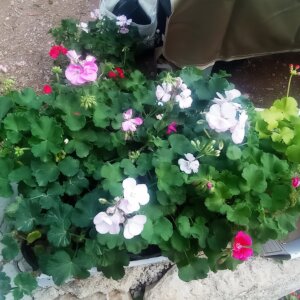 Geraniums grown by Shimon Barak on a moshav near the Gaza Strip were among the wares at a Jerusalem farmer's market. Photo by Linda Gradstein
He and his wife were in their safe room, he said, and heard the exchanges of gunfire. Several of their friends were wounded.
The moshav's residents were evacuated by the Israel Defense Forces and most have spent the last six weeks living  in hotels in Eilat. Barak, though, refused to leave his plants.
He said he has remained on the farm with three of the 10 Thai workers he employed before the war began.  In recent days, some of his neighbors have begun to move back to the moshav, Barak said, and more are planning to return in January.
He said he moved to Ein HaBsor after he was forced to leave an Israeli settlement in the Sinai desert back in 1982, and has no intention of leaving his home again.
The post In Jerusalem, a market blooms to help Gaza-area farmers hit hard by the war appeared first on The Forward.
The post In Jerusalem, a market blooms to help Gaza-area farmers hit hard by the war first appeared on The News And Times – thenewsandtimes.com.