Joe Vogel made history last year when be became the first Uruguayan American to win a seat in a state legislature. Now he wants to break more barriers — but in Washington.
Vogel, a Democrat, announced his bid for an open U.S. House seat next year from Maryland on Monday. If he wins, he would become the first Latino, first openly gay and youngest person to represent Maryland in Congress.
The 26-year-old is running to succeed Rep. David Trone, a three-term congressman from Potomac, who recently launched a campaign for the Senate seat held by Jewish Sen. Ben Cardin since 2007. Vogel is the first Democrat to declare his candidacy for the 6th Congressional District, which, like most of the rest of the state, runs deep blue. He is the first Democrat to enter the race.  
In an interview, Vogel described "a time of great transition" for the Jewish community in Maryland. He referenced Cardin's retirement announcement, in which the senior politician said his public service was centered around the idea of tikkun olam, Hebrew for repairing the world. "We are that next generation of Jewish leaders who are going to carry on that promise," he said.  
Vogel also reflected on his family history, which he said had motivated him to run for public office. His great-grandparents fled Eastern Europe in their teens before World War II and settled in Uruguay. His grandparents, born during the Holocaust, dropped out of school in their teenage years to support their families.
Pull of politics
Vogel emigrated to the U.S. with his family when he was three and settled in the heavily Jewish town of Rockville, Maryland, north of Washington, D.C., where he attended the Charles E. Smith Jewish Day School and was active in BBYO, the Jewish youth movement. 
He developed an interest in politics as a teenager. At 15, he volunteered on former President Barack Obama's reelection campaign. He later interned for former House Speaker Nancy Pelosi and then Sen. Chuck Schumer, now the Senate minority leader. In 2016, he took a break from his studies at George Washington University — where he lobbied against student government resolutions that endorsed the Boycott, Divestment and Sanctions movement against Israel — to work on the advance team on Hillary Clinton's presidential campaign.
During the coronavirus pandemic he started a nonprofit to help students of essential workers in remote learning. And last year he received a masters in public policy at Harvard University's Kennedy School of Government.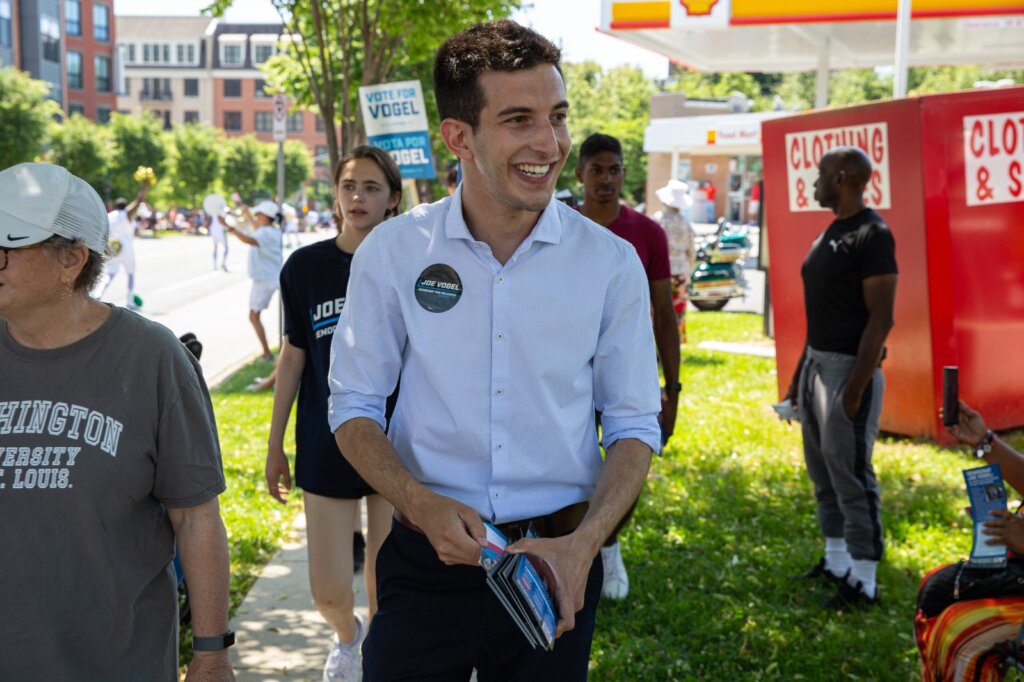 Joe Vogel, a Maryland state delegate and congressional candidate, on October, 2022. Photo by Matthew Litman
He also won election to the Maryland House, representing the cities of Rockville and Gaithersburg. In his victory speech after the Democratic primary, he said his success as a gay, Jewish, Latino man was a testament to expanding American ideas of who a leader can be, and to the resilience of his family, which had a century ago fled religious persecution.
Earlier this year, after a rash of antisemitic incidents across Montgomery County, which includes his district, Vogel sponsored a bill to establish a statewide commission to investigate hate crimes.
As for the personal history he would bring to Congress, Vogel joked: "Unlike George Santos, I am telling the truth," referencing the scandal-plagued Republican congressman who fabricated his family's Holocaust history and repeatedly called himself a Latino Jew, among other lies about his past. 
 "At a time when there is growing distrust in our democratic system," Vogel said he sees himself as someone who can represent people, like him, who grew not seeing their identities reflected in government.
Support for Israel 
Vogel said that he feels deeply connected to Israel as a haven for Jews like his persecuted great-grandparents. He said he has visited at least seven times since his bar mitzvah.
"I am a proud pro-Israel progressive," he said, noting his support for a two-state solution to the Israeli-Palestinian conflict. He said his support for Israel and his progressivism overlap.
Vogel said he admires the hundreds of thousands of Israelis protesting the Israeli government's judicial overhaul proposal, which has triggered a political, economic and diplomatic backlash and has now been suspended as members of the governing coalition and the opposition try to work out a compromise. "There are some policies that I strongly disagree with that the current government is seeking to advance and that I think are undemocratic," he said. 
He described the protests as an inspiring testament to the strength of Israeli democracy that shows how ordinary people can defy attempts to undermine it. "I think it's important for us to stand up for democracy, stand up for democratic principles in Israel, in the United States and all over the world," Vogel said.
The post This Gen Z, gay, Latino Jew says he wants to repair the world — from Congress appeared first on The Forward.
The post This Gen Z, gay, Latino Jew says he wants to repair the world — from Congress first appeared on The News And Times – thenewsandtimes.com.