Photojournalist Lynsey Addario has covered humanitarian crises and war in Israel, Lebanon, Ukraine, Afghanistan, Iraq, Darfur, the Democratic Republic of Congo, Syria, Libya, Somalia, Yemen, South Sudan and elsewhere. She's won a Pulitzer Prize, a MacArthur "genius" grant and a Courage in Journalism Award from the International Women's Media Foundation.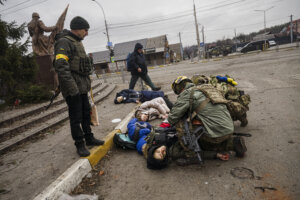 A Ukrainian mother, her children and a friend died in a Russian mortar attack in Ukraine, March 6, 2022. The New York Times called this a "defining war photo." Photo by Lynsey Addario
Addario has been kidnapped twice, in Iraq and in Libya, and in 2011, the Israeli government apologized after soldiers — knowing she was seven months pregnant — forced her to go through an X-ray scanner three times, then strip-searched her. Last year, the Times called her image of a Ukrainian family killed by Russian mortar fire "a defining war photo."
Before Addario became one of the most renowned photographers of her generation, I worked with her covering politics for The Associated Press in New York. She's now a  freelance photographer based in London, and she was the first person I wanted to talk to after a pro-Israel group, Honest Reporting, insinuated that photographers were tipped off to Hamas' Oct. 7 attacks. Those allegations led Israeli politicians to threaten to hunt the photographers down and treat them like terrorists. When I reached Addario, she was en route to North Carolina to talk about her bestselling memoir, It's What I Do. She answered my questions — on her 50th birthday, no less — when she got home to London. Happy birthday, Lynsey, thank you for the insights, and stay safe.
This interview has been lightly edited for space and clarity.
How do you see your role as a photojournalist covering conflict?
My role as a photojournalist is to document events on the ground where I am assigned as they unfold, to inform and educate the public about what is happening, and to ensure the information/captions which accompany my photographs are factually correct and can be verified.
What is your goal when you're in the field, when you're deciding what to shoot and what to send back to be published? 
My goal is often to get the most comprehensive/thorough documentation of what I am covering — whether it is frontline soldiers, military positions, or war's impact on civilians. Sometimes I am covering government soldiers, sometimes I cover rebel movements.  This depends on many factors, but generally boils down to my assignment, what is happening on the ground, and who and where I can access. I am always trying to get the fullest picture, provide the reader with the most intimate view of a story. But this is not always possible — this often depends on the access I am given. One of the toughest things about covering war aside from the danger is getting access.
How do you even know where to go, what to do?
International journalists like me often work with local journalists, or "fixers" in the field, and they often have a network of information through long-cultivated contacts or WhatsApp groups with other journalists where they share information about things going on, recent attacks, breaking news. So we rely heavily on the local individuals or the team we are working with. In addition to this, we monitor most social media groups, which often post information in real time. And we sometimes just cruise around and look to see what is happening on the streets, and try to capture the atmosphere through photographs and interviews.
Describe your experiences in Israel, Gaza and the West Bank.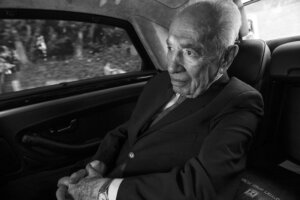 Shimon Peres. Photo by Lynsey Addario
I've spent a bit of time in Israel, Gaza and the West Bank. In 2004, I shot a cover story on Yasser Arafat in the West Bank for The New York Times Magazine; in 2006, I covered the start of the Lebanon-Israel war in Israel for the Times, documenting the Israeli military and civilians in Israeli towns taking shelter from Hezbollah rocket attacks and the aftermath of the strikes. Several weeks into the war, I was sent by The New York Times to Lebanon to continue coverage from the Lebanese side. It was around the time of the cease-fire, so much of my coverage in Lebanon revolved around families returning to their destroyed homes, and recovering the dead from places which were inaccessible during heavy bombardment.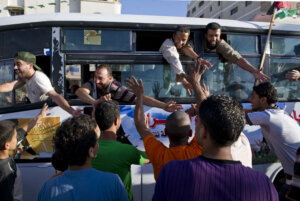 Throngs greet Palestinians traveling to Gaza City after being released from prison in exchange for Israeli soldier Gilad Shalit, Oct. 18, 2011. Photo by Lynsey Addario
In 2011, I was sent to Gaza to cover the prisoner exchange with Gilad Shalit, where roughly 1,000 Palestinians were traded for an Israeli soldier, and I covered the lead-up to the return of those prisoners, and the celebrations the day they arrived in Gaza. A few years later, I returned to Israel to spend three days behind the scenes with Shimon Peres for a documentary photo essay in The New York Times.
I think, unfortunately, this is the type of conflict where people make a lot of judgments about international journalists based on where or what they are covering, and fail to realize journalists cover conflicts and stories not as a way to reflect our loyalties, but because it is our job to objectively cover what is unfolding before us where we are assigned to work.
Is there anything about this war, in the aftermath of the Oct. 7 attacks, that makes it different, from what you can tell, from covering other wars?
In general, I would say the difference is that no international journalists are allowed into Gaza, so we are completely reliant on Palestinian journalists, or residents of Gaza, for coverage, and on embeds with the Israel Defense Forces escorting international media.
Also, many people are demanding we take a side or post our opinions about the atrocities on either side on social media, which completely contradicts the ethics of journalism. No one demanded this of me when I was covering the genocide in Darfur, or the civil war in the Democratic Republic of Congo, or any of the other wars I have covered.
Last week, the Israeli government joined a pro-Israeli watchdog group, Honest Reporting, in accusing seven freelance photographers of being tipped off to Hamas' Oct. 7 attacks. Honest Reporting said the "early morning presence at the breached border" of news photographers "raises serious ethical questions. What were they doing there so early on what would ordinarily have been a quiet Saturday morning? Was it coordinated with Hamas?" Once AP, The New York Times, CNN and Reuters denied the allegations, Honest Reporting pulled back, saying they were only asking questions. Your thoughts? 
I cannot really comment, because I was not there. But I am aware of the accusations by Honest Reporting that journalists had advance notice of the attacks, have read The New York Times statement strongly objecting to the accusations, and Honest Reporting's subsequent admission that their claim was not based on facts. I can say from experience that word travels extremely fast in hostile situations, and I and my colleagues have gotten word of attacks/breaking news almost in real time everywhere from Afghanistan to Iraq to Ukraine, and we gather our gear and rush to the scene pretty much immediately, as soon as we have information. A fast response to events unfolding or to an attack means we will get the most uncensored coverage. Because the more time that evolves between an event and arrival time means a scene will often be closed off or difficult to access. So most photojournalists — whether local or foreign — try to arrive to a scene the minute we hear of something unfolding.
In response to the controversy, The New York Times issued a "defense of freelance photojournalists working in conflict areas, whose jobs often require them to rush into danger to provide first-hand witness accounts and to document important news. This is the essential role of a free press in wartime." 
Yes, I agree. My job as a photojournalist working in conflict zones often requires me to rush into unpredictable and dangerous situations to document news as it unfolds. We document that which might not otherwise come to light. It is imperative that journalists have the ability to work without being obstructed, targeted or censored. And often the most powerful documentation of breaking news events in war is from photographers and journalists who arrive first or earliest on scene.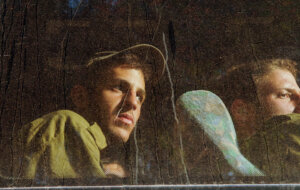 Israeli soldiers sit on a bus in Northern Israel after coming out of fighting with Hezbollah in Southern Lebanon, July 28, 2006. Photo by Lynsey Addario
Being a war photographer means we are as exposed to danger as much as local civilians, and are often on the receiving end of hostility and threats from the people we cover, and those who do not like/welcome our coverage. Any of us who do this work understand and accept this as one of the potential risks. I have been kidnapped twice — once outside of Fallujah in 2004 by insurgents linked to al-Qaida, and once in 2011 while covering the Libyan popular uprising in the East by forces loyal to Qaddafi. I was detained and intimidated in Darfur by the same Sudanese government officials who signed my permission to work in the camps for displaced in 2009 because those working under President Bashir did not want the genocide in Darfur exposed to the world. In 2011, while crossing out of Gaza through Erez crossing at 27 weeks pregnant with an Israel-issued press pass, I was forced to go through a full-body scanner three times before being strip-searched by Israeli border guards.
In the past decade, we have witnessed an increase in journalists around the world killed, imprisoned and intimidated by governments and their representatives who did not want their coverage out in the world. Journalism is not a crime, and journalists should not be intentionally targeted in any situation.
How do you stay safe? Isn't it terrifying? Do you have a sickening feeling in the pit of your stomach every minute or are you so in the moment and focused that you don't think about that?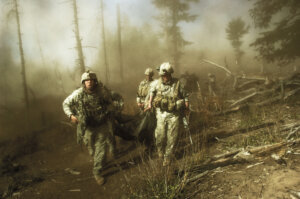 U.S. troops carry the body of Staff Sgt. Larry Rougle, who was killed when Taliban insurgents ambushed their squad in the Korengal Valley, Afghanistan, October 2007. Photo by Lynsey Addario
I'm generally very focused on planning out my days so as to maximize coverage while minimizing danger as best as possible. We take a lot of calculated risks, but war is unpredictable, and anything can happen on any given day. The New York Times — and many news organizations, actually — now require us to work with security advisers when we are working near the frontline, so they help us navigate and weigh risks, and provide extra expertise on how to minimize risk. Security advisers provide a fair amount of consolation when we are operating in dangerous places. But yes, I generally operate with a pit in my stomach from the day I arrive in a country until the day I cross out of a war zone. And I am often not aware of the tension/stress I am carrying around with me while on assignment because I am also stressed about making sure I get the images I need to tell a story! It isn't until I leave a place that I realize the tension/stress I have been carrying around.
How do you calm down when you're out of the thick of it? Meditation? Wine? Stupid movies? 
My meditation is exercise. I start every day with a workout of some sort — whether it is a run, cross-trainer or Pilates, and this sort of centers and relaxes me, and sets the tone for the rest of my day. I also have two young sons, 4 and 11, so I don't have the luxury of taking time to "decompress" because I need to be present for them when I am home. But I love spending time with my family and friends and hosting big dinner parties with close friends. And of course, I love a good love story.
Give us a sense of your schedule. Do you have plans to return to the field, and if so, where? 
I was in Ukraine in September, in Afghanistan in October, and this month is a combination of speaking engagements and personal commitments. December is still coming together. Anything could happen by then!
The post 'Journalism is not a crime': Pulitzer and MacArthur winner Lynsey Addario on war photography appeared first on The Forward.
The post 'Journalism is not a crime': Pulitzer and MacArthur winner Lynsey Addario on war photography first appeared on The News And Times – thenewsandtimes.com.