Putin ally suggests Russia can't win without nuclear weapons
The biggest drone attack on Russia since its invasion of Ukraine has prompted Kremlin propagandist Vladimir Solovyov to deliver an on-air tirade about what he believes is necessary for Moscow to win the war it started.
Several Russian regions were targeted in a large-scale drone attack on Wednesday night. Aircraft—including Ilyushin IL-76s—were destroyed or damaged at an airfield in Pskov, 450 miles from Ukraine, in what signaled a serious military failure by Moscow. Russian authorities have blamed Ukraine for the attacks, although Kyiv has not claimed responsibility.
On Vladimir Solovyov's radio show Polniy Kontakt (Full Contact), the ally of Vladimir Putin criticized the images and information that regional governors shared on social media about the aftermath of the strikes.
"Stop pretending to be bloggers," he said at the start of the 11-minute clip, shared by Russia watcher and journalist Julia Davis, during which his voice veered from confessional whisper to full-throttled fire-and-brimstone sermon. "Why are you posting photos?"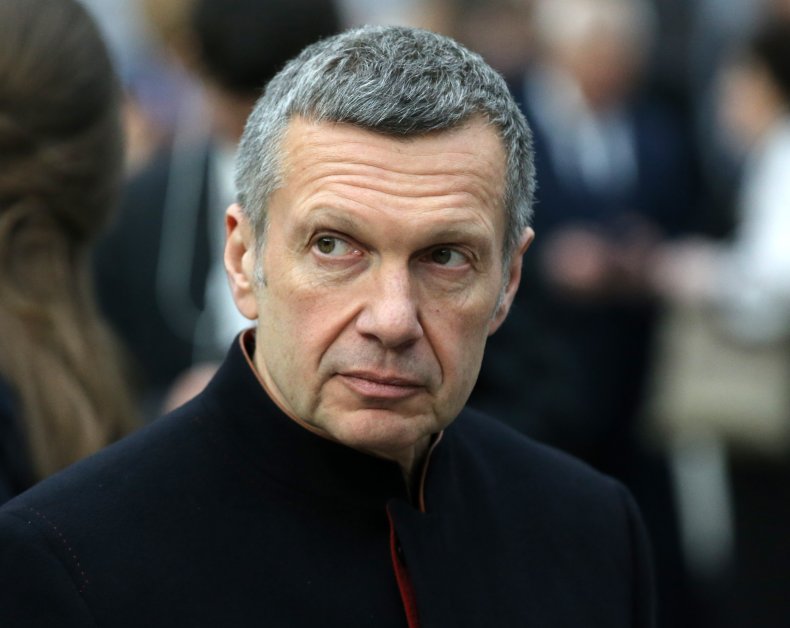 Kremlin propagandist Vladimir Solovyov has reacted angrily to the drone attacks on Russian regions on August 30, 2023. On his radio show Full Contact, he reiterated his calls for nuclear weapons to be used. Getty Images
Wearing a red USSR tracksuit top slightly zipped down while a trophy for his broadcasting efforts sat to his right, Solovyov continued by asking how such a "powerful" attack in which the "very bad" losses of Russian aircraft was possible.
Answering his own question, Solovyov surmised that NATO aerospace intelligence had helped with reconnaissance that Russia was not taking seriously enough, concluding that such forces "must be destroyed."
He dismissed claims that Russia's air defenses could chase the drones away and rejected concerns that an escalation of Moscow's efforts would lead to a direct confrontation with the alliance, with which he has repeatedly said Moscow is fighting a proxy war.
Vladimir Solovyov was furious about Ukraine's latest drone attack. Blinded by rage, he revealed that Russian experts are urging the Kremlin to end this war and came close to admitting that Russia can't win with conventional weapons.https://t.co/YMSanFUYsd

— Julia Davis (@JuliaDavisNews) August 30, 2023
"If we are going to wage war, we should wage war," he said, before mocking the criticism of comments made on his show by Andrey Gurulyov, a Russian parliament member and former military commander, that the area around Robotyne that Ukraine has liberated is "the perfect case for a tactical nuclear strike."
Solovyov called such critics "sniveling wimps," adding "get ready and head for the front! Show how you can do it without nuclear weapons."
Solovyov then seemed to broaden his nuclear threat from tactical to strategic as he noted Pskov's proximity to NATO countries Estonia and Latvia. He said that if the drones had been launched from the Baltic states "then erase them from the face of the Earth."
"If the strike was launched from a NATO country this is NATO's declaration of war against Russia," he said, "that means in response, nuclear weapons should be immediately used." Estonia has said that it was not behind the drone attack.
Newsweek has contacted NATO by email for comment.
Since the start of the war, Solovyov and guests on his evening TV show have repeatedly invoked Russia's nuclear capabilities, calling for strikes on countries that are supporting Kyiv and sometimes, for their use on the battlefield. While there has been a nuclear threat hanging over the war, the received wisdom from experts that such a move is unlikely at the moment.
Selected Articles – Michael Novakhov's favorite articles on Inoreader – The News And Times
The News And Times Information Network – Blogs By Michael Novakhov – thenewsandtimes.blogspot.com