This year, like many other Jews, I'm planning a Rosh Hashanah spread that will feature fish — a symbol of fertility, and a talisman against the evil eye.
The only difference: Mine will be sweet and made of rice flour, and shaped in a hand-carved, wooden mold, following a Chinese tradition repurposed for the High Holidays.
In Chinese culture, as in Judaism, fish symbolize fortune. And, just as many Jews serve a fish head for the "head of the year" on Rosh Hashanah, on Chinese New Year, fish is a must, with many families presenting a fish head to the eldest guest as a sign of respect.
I came across these adorable fish-shaped date-paste cookies while searching for a way to represent my heritage. I'm Chinese and Jewish, and as a food writer and home cook, I'm always looking for Jewish ways to highlight Chinese cuisine — and any cuisine outside of the Ashkenazi-American canon. At a recent Shabbat dinner, I replaced the salt in which challah is typically dipped with a salty ginger-scallion sauce. My guests mopped it up happily, rushing back for seconds and thirds.
For Rosh Hashanah, I wanted to find a Chinese dessert to usher in a sweet new year. I chose dates as my starting point, because they are one of the seven simanim, or good omens, that many Jews — especially Sephardi Jews — eat on the holiday. Many scholars believe that in the Book of Exodus, when God promises Jews "a land of milk and honey," "honey" refers to a sweet paste made of mashed dates that is still ubiquitous in the Middle East today.
So I scoured the internet for recipes for Chinese sweets made with dates, and came across a recipe for "Chinese Rice Flour Cookies With Date Filling" in The Hong Kong Cookery, a blog maintained by an architect and home cook based in Hong Kong.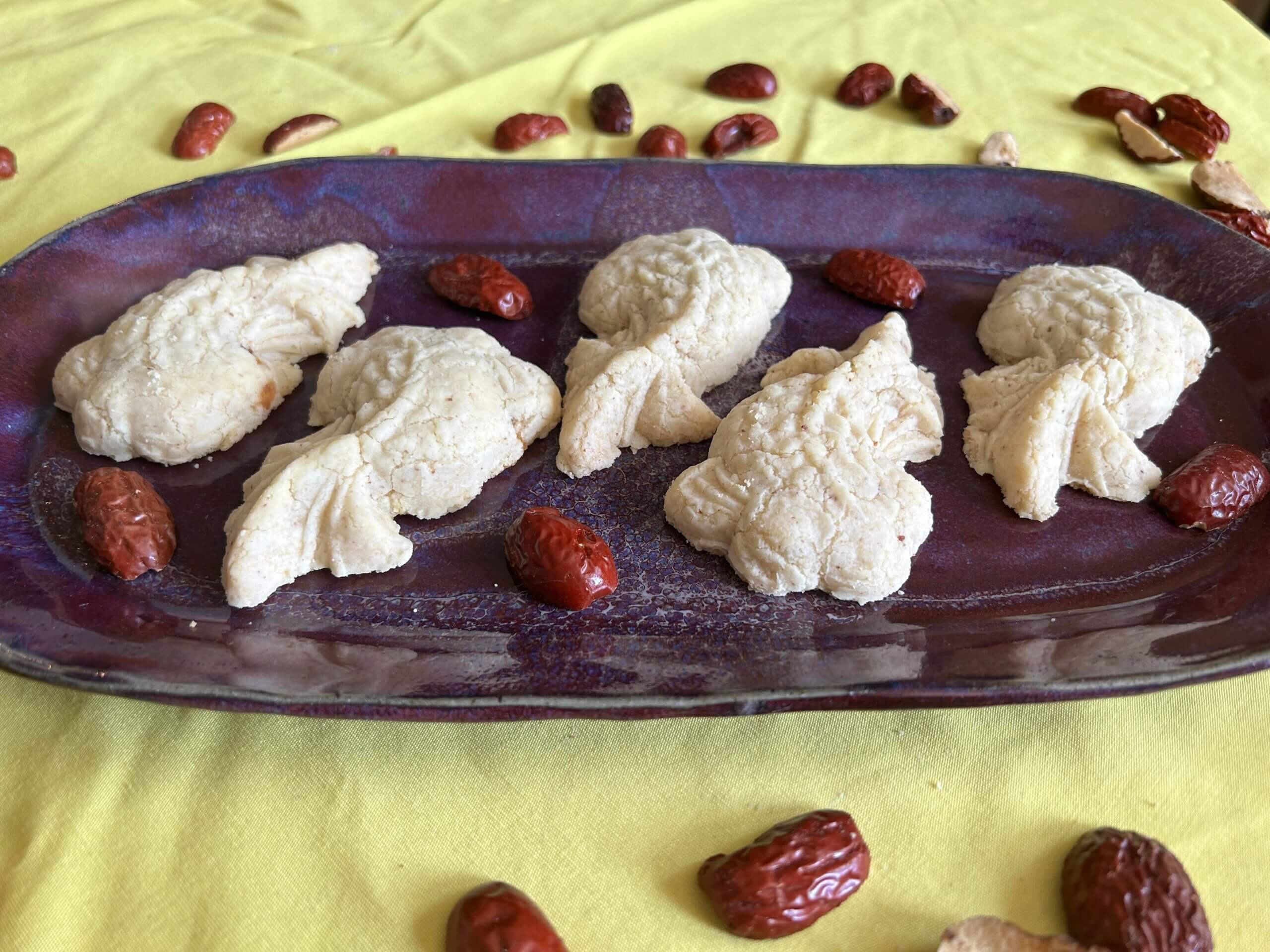 Part of the fun of these cookies: The delicate details the carved wooden fish mold bestows on the final product. Photo by Sam Lin-Sommer
I was pleased to learn that in China, too, this was the right season to eat these desserts. The cookies are a traditional dessert baked for the Mid-Autumn Festival, a major Chinese holiday focused on family, thanksgiving and the moon that takes place around the same time as the High Holidays. 
When I showed the fish cookie recipe to my colleague, Forverts editor and Yiddish cooking maven Rukhl Schaechter, she excitedly told me that she was in the middle working on a Yiddish video about roasting fish (the once-living kind) for Rosh Hashanah. She also gave me a crucial piece of baking advice for making the dish pareve: replace the butter with Fleischmann's unsalted Kosher shortening.
I found both the shortening and a wooden fish mold on the Lower East Side of Manhattan, a historic stomping ground for both Chinese people and Jews in New York. At a Chinese kitchen supply store, a kind, chatty lady from Guangdong, China presented me with a wooden paddle that had a four inch-long koi fish delicately carved into its blade. "When I was a child, we would use molds to make treats for the Mid-Autumn Festival, too," she told me in Mandarin, "but ours were shaped like little Buddhas." As I walked from Chinatown through the Lower East Side, where a cluster of Kosher vendors sell rugelach and chicken thighs, I saw Chinese signage give way to building facades that still bear the marks of the area's Jewish community, with stars of David and Hebrew letters etched into their walls.
I hauled my bounty to my Brooklyn apartment, where I started by making the "date" paste to stuff into the cookies. I opened up the packet of deep red, oval dried jujubes, or Chinese red dates, and was bowled over by their aroma of molasses and apples. (It's important to note here that Chinese red dates are not related to western dates, but they earn their name for their striking similarity in taste, appearance, and spirit. I wager that you could replace the jujube paste here with a medjool date paste for a delicious, Levantine take on these cookies.)
A quick boil and pulse in a food processor turned the jujubes into a fruity, caramelly paste; I'm looking forward to eating the leftovers over buttered toast in the coming week.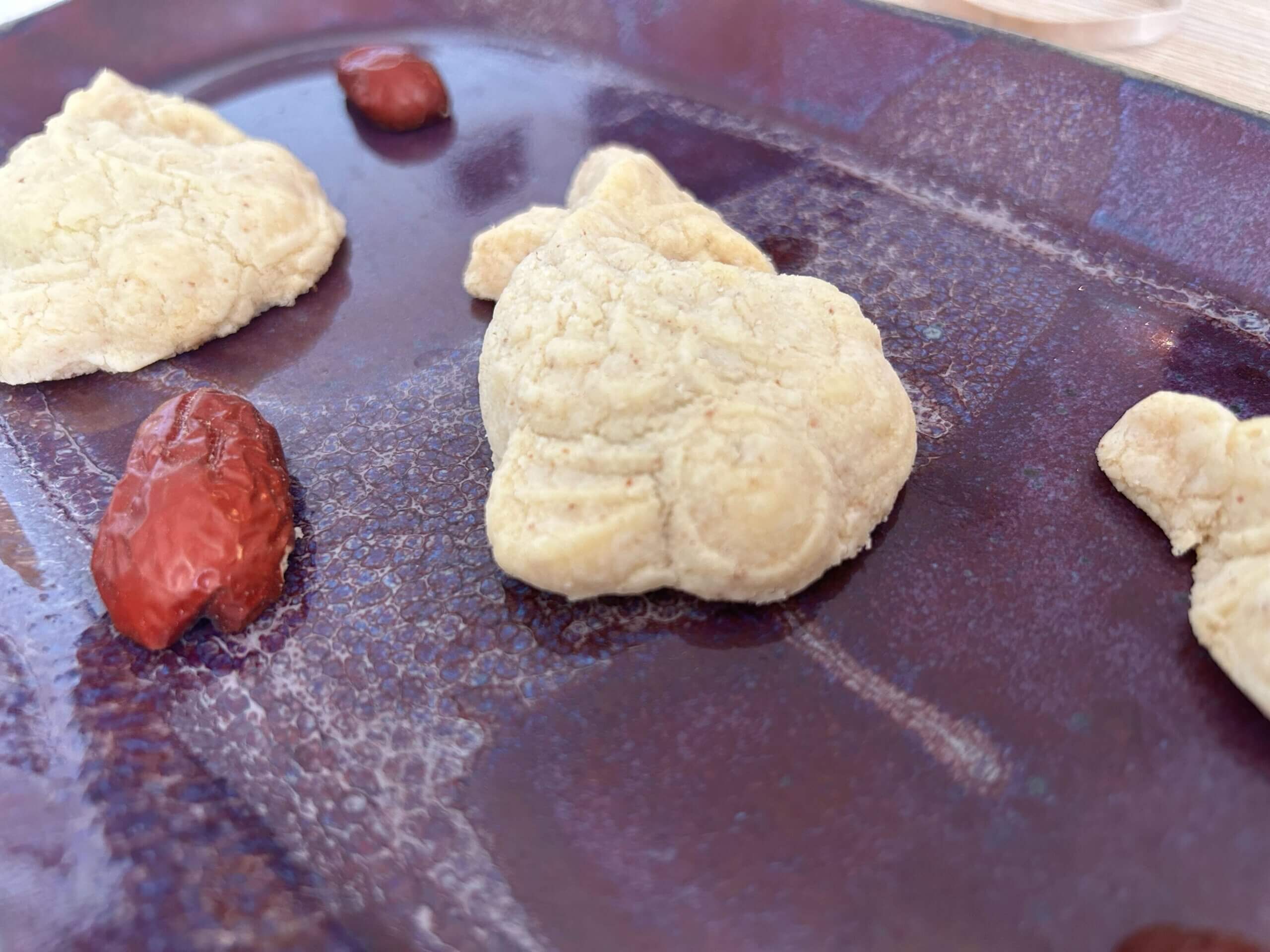 This recipe calls for jujubes, also known as Chinese red dates, but you can easily substitute medjool dates. Photo by Sam Lin-Sommer
Then came the dough, made of only four ingredients: rice flour, crushed almonds, confectioner's sugar and shortening. I packed the simple combination into the wooden mold along with a dab of date paste; it emerged as a snapshot of a koi fish mid-jump. After a short, low-heat bake in the oven, my little fish emerged light and crumbly, with a jammy filling.
They're a delicate and beautiful dessert, perfect for a celebration like Rosh Hashanah or the Mid-Autumn Festival — or both. And in my mind, the way in which these cookies make perfect desserts for two contemporaneous holidays — one rooted in the Levant, and one based in China — speaks to a deeper connection between the two areas. The ingredients they share are a reminder that Chinese and Jewish cuisines were intertwined long before my Ashkenazi father and Chinese mother first broke bread.
The Silk Road connected Asia to the Middle East for more than 1500 years, enough time for each region to indelibly shape the other. Archaeologists have found the remains of 2,000-year-old baked cereal cakes in Northwest China that lend evidence to the idea that Chinese cooks, who primarily tend to lean on steaming and frying as cooking techniques, learned to bake from migrants on the Silk Road. Wooden baking molds were invented by ancient Egyptians before finding a presence in China. And the rice that was pulverized into the flour that gives these cookies their delicate crumb originated in China, before becoming a staple in the diets of many Sephardic and Mizrahi Jews. 
Plus, the Silk Road is likely what brought China's oldest Jewish community, the Kaifeng Jews of Central China, to the country some 1,000 years ago. 
For my Chinese-Jewish Rosh Hashanah this year, these rice flour cookies will share space with my mom's honey cake. I'm hoping that by being a little more generous with the shortening, I'll struggle a little less with the fish mold when I'm baking for the big day next weekend. On my first attempt at pressing the cookie dough into the mold, the dough was too dry, and when I tapped the wooden paddle against my dining table, only the head of the fish popped out.
Its two bulging eyes stared at me, unembarrassed. My ancestors, Chinese and Jewish alike, would have known exactly what to call that disembodied head: a good omen.
The following recipe is adapted with permission from The Hong Kong Cookery.
The post For a Chinese-Jewish Rosh Hashanah, date cookies that recall the cultural blend of the Silk Road appeared first on The Forward.
The post For a Chinese-Jewish Rosh Hashanah, date cookies that recall the cultural blend of the Silk Road first appeared on The News And Times – thenewsandtimes.com.