Uriel Baruch works in construction, selling sand and other supplies to contractors. At his wedding in Jerusalem six years ago, guests danced until 3 a.m. He is 35 years old, a fan of techno music, and the sort of person who invites someone dining alone in a restaurant to join his table.
For his son Ofek's 5th birthday yesterday, there was a blue-and-white balloon arch, a mural featuring a life-size unicorn and many, many cakes.
The only thing missing was Baruch. He has not been home since Oct. 7, when Israeli officials believe he was abducted by Hamas terrorists from the Nova Music Festival.
"We are wearing the shirts with pictures of Uriel — we want him to stay with us, so we have the pictures on the shirts," Baruch's father-in-law, Dan Anteby, told me.
"We prepare ourselves for everything. I hope he will come back alive, but you don't know."
I'd never heard or seen Baruch's name until last Sunday, when I covered a vigil for the hostages in Montclair, the New Jersey suburb where I've lived since 2016.
Local Israeli ex-pats spent more than three hours meticulously setting a long Shabbat-themed table on the street I walk down to get to the train into the city, between two cafes where I sometimes meet friends for breakfast. The plastic plates and goblets were taped down in case of wind. There were bottles of grape juice, candles, fresh red roses and 240 empty chairs, each with the photo, name, age and nationality of a hostage believed held in Gaza.
The kids' places had highchairs and sippy cups.
The idea of these displays — whether at the Tel Aviv art museum or the Lincoln Memorial — is to shock viewers with the staggering number of innocent people who were abducted. It is effective but also overwhelming. I walked slowly around the table before the vigil began, trying to absorb the information on each of the 240 KIDNAPPED signs, trying to imagine each individual's story. But the faces blurred together in my mind; I couldn't remember the names.
Then the organizers handed out wallet-sized cards, each with a single hostage's picture, name and age on one side, and a short prayer on the other. Rabbi Elliott Tepperman, who leads the Reconstructionist synagogue in town, urged us to each tuck our card into a pocket or tack it up on a bulletin board, to stick it in the frame of a bathroom mirror or carry it in our wallet.
To learn whatever we could about the person — and to tell others about them.
"Our tradition teaches that every human life is holy — that to take a single life is to destroy the world, and to save a single life is to save the world," Tepperman said, referencing one of the most cited lines from the Talmud.
"Keep these cards in the way you might treat a sacred text," he added. "It might not be possible to think about all 240, but to think about this one person, to pray the prayer. To do what we can to save that person and that world."
My card said Uriel Baruch, 35 years old, kidnapped by Hamas.
He is the third of four sons who grew up in Tiberias, Kfar Saba and Jerusalem. He is the father of two boys; the older one, Shalev, is 7. And he is the husband of Rachel, a hairdresser who also works as a secretary at the catering company where Anteby, her father, is a chef. She has not been to either job since Oct. 7.
"She stopped crying," Anteby told me, because she has run out of tears. "She is doing nothing, nothing. She is waiting at home. And looking for him."
Nobody is even sure Uriel Baruch is in Gaza.
He went to the all-night desert dance party in Kibbutz Re'im with a neighbor. Around 9:30 or 10 a.m. on what Israelis now call Black Shabbat, Anteby said, the family saw videos on social media showing Baruch's car — "and his friend dead inside the car."
"And we saw Uriel on the ground, but we don't know if he's alive, dead, shot, not," he told me. "It's very short," he said of the video clip. "We saw him near the car on the ground. Later, he disappeared."
For the next 11 days, Anteby said, "nobody tells us nothing." Uriel's brothers and Rachel went "to all the hospitals in Israel," he said, imagining — hoping — that he might be lying in one of them, unconscious and without identification.
"In the north, in the south, in the west, in the east," Anteby said. "In Beersheva, in Ashkelon, in Ahdod, in Haifa, in Jerusalem, all the hospitals, to look, maybe he's there."
He was not.
Eleven days after the attack, Anteby said, the army finally called, and then came to see the family. They had identified the body of the friend Baruch had been with. They'd found no blood on the road next to the car where Baruch had been lying, so they thought he was alive. But there were no photos or video showing him being taken.
The officials said Baruch was "missing," not that that was news. Another week passed, Anteby said, before Baruch was officially added to the list of the kidnapped. Remember when the numbers kept going up?
Anteby, who is 60, said Baruch is more like a son than a son-in-law, always asking if he can help the older man with things around the house. He recalled the vacations he takes the young family on every year to a hotel on the Sea of Galilee. He said Baruch once told him he cannot handle seeing blood.
And he told me this story: About a week before the attack, before the start of the Sukkot holiday, Uriel and his brother Ohad — who was visiting from his home in New York — went to a restaurant for dinner, and saw a woman sitting alone. Uriel went over to the woman and asked why she was alone. The woman said she was celebrating her birthday.
"He said, 'Alone?' She said, 'Yes, this is my life,''' the father-in-law recounted. "He said, 'No, you're not alone.' He said come to my table. He got a cake for her, they sang 'Happy Birthday to You,' she said thank you and cried."
Ofek, Baruch's son, was also not alone for his birthday. Volunteers poured into Giv'at Ze'ev, a settlement of about 20,000 people a few miles from Jerusalem in the occupied West Bank, to make the party and dozens of children attended. There was a bouncy house, music, games, bundles of snacks adorned with Ofek's picture, and a cake with a picture of Noa Kirel, an Israeli pop star who placed third in Eurovision last spring with a song called "Unicorn."
Anteby said Kirel herself was coming to sing to Ofek this weekend.
It will be hard to top this birthday. Unless, when Ofek turns 6, Uriel is there to celebrate with him. No unicorns necessary.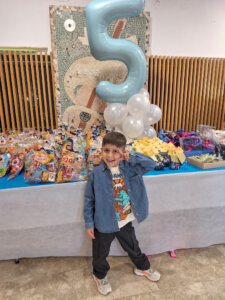 Uriel Baruch's son, Ofek, celebrated his 5th birthday this weekend. Courtesy of Dan Anteby
The post There are 240 hostages in Gaza. One is Uriel Baruch. appeared first on The Forward.
The post There are 240 hostages in Gaza. One is Uriel Baruch. first appeared on The News And Times – thenewsandtimes.com.