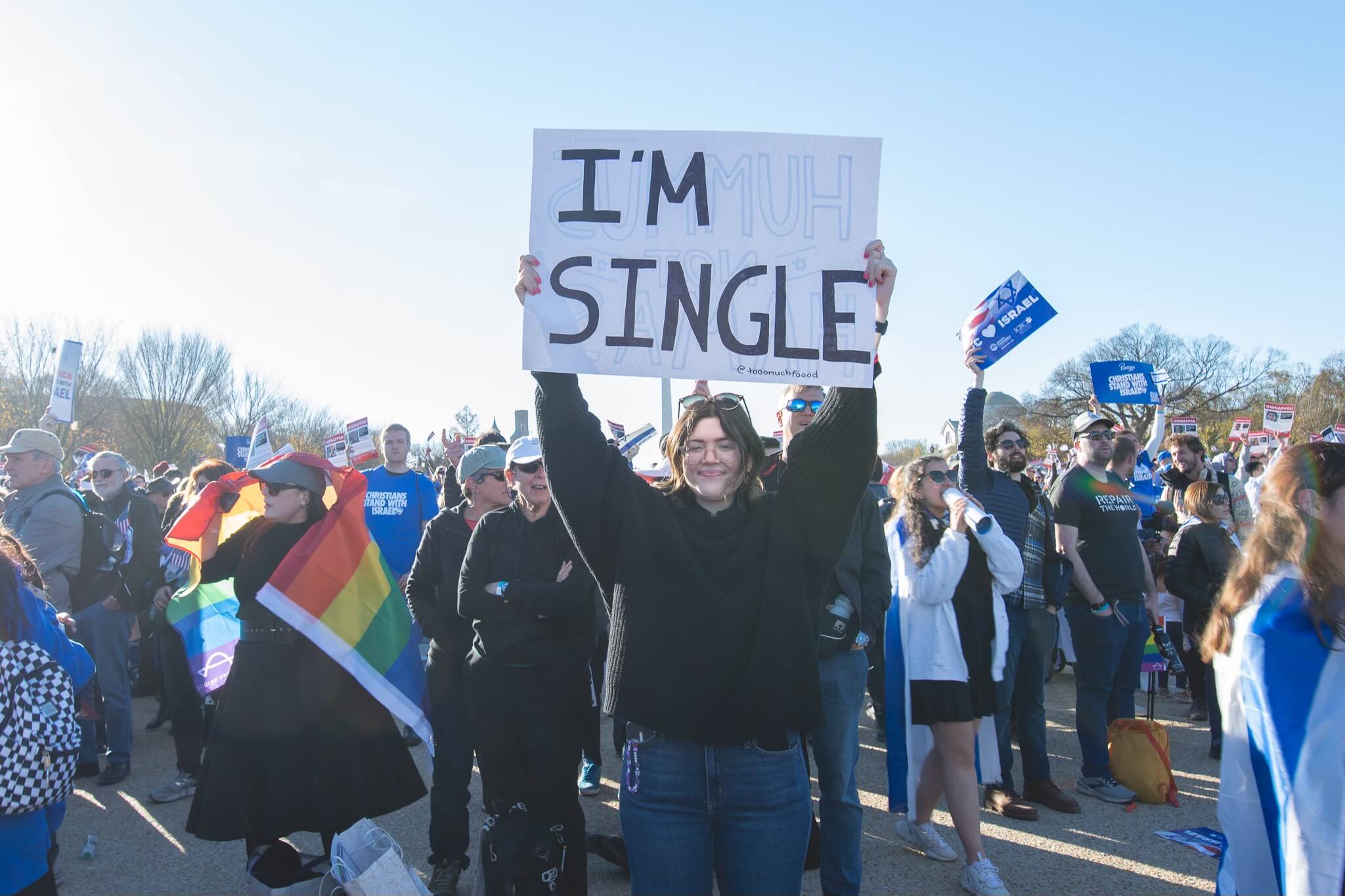 Her "I'm single" sign, Sharpie on poster board, became the most talked about at last week's rally for Israel on the National Mall. 
Throughout the event, mothers, fathers, grandmothers and grandfathers approached her to give some version of "have I got a boy for you!"
More than 3 million people liked photos of the sign on Instagram, X (formerly known as Twitter) and other platforms.
Some people on social media told her that the sign was in poor taste at a rally organized to combat antisemitism, support Israel, and keep attention focused on the hostages Hamas holds in Gaza.
But Morgan Raum said the sign was a Jewish joke that most Jews got. 
"There's an emphasis on matchmaking in Jewish culture and here I was in the midst of 300,000 Jewish people," said the 26-year-old New Yorker. "It was just supposed to be funny." The flip side of the sign read: "Hummus not Hamas." 
"I'm not actually looking for a husband this way," she emphasized. "This was just supposed to be part of me trying to expand the reach of the rally post on my social media because I'm a full-time social media influencer."
A dating professional
Raum last month quit her job at Lox Club, which bills itself as "​​A members club for Jew-ish ppl with ridiculously high standards" to focus on @tooomuchfoood, her Instagram account covering New York's dating and food scene.
Her friend, who drove with her to the rally from New York, made a similar sign for himself, which did not get nearly as much attention: "Gay Zionist Single," read Blake Fonsberg's. He also has a strong Jewish presence on Instagram as the founder, with two friends, of @gayshabbat, which they use to organize Shabbat dinners for gay Jews.
Raum said she did not hold her sign up during speeches and certainly not when the hostages' families were talking. Her mother was born in Israel and she's got family there. She appreciated, she said, the seriousness of the rally.
But the atmosphere last Tuesday, under sunny skies and with a high in the 60's, was also often celebratory, she noted. Many Jews there (estimates range from tens of thousands to nearly 300,000) expressed how glad they felt — in the aftermath of Oct. 7 Hamas attack and amid massive demonstrations protesting Israel's military action in Gaza — to walk among other Jews who seemed to understand them.
Despite the online vitriol from those who didn't appreciate the joke, Raum said she's glad she made the sign and got people talking and clicking. 
That's what she's tried to do since she created her Instagram account as a high school junior at the Horace Mann school in the Bronx, an account that grew during her years at Columbia University, where she was active in Hillel and went on Birthright.
When she graduated she began writing about food for People magazine, and then went to work for Lox Club. After three years there she broke off to cultivate her own brand on Instagram, where she now has 150,000 followers. She also founded @Shabbatclub on Instagram, where she organizes Shabbat dinners for young professionals. 
Now she's applying to business school, and said she's not exactly sure what she wants to do with the degree.
Birth of a sign 
Raum's "I'm single" sign resembled one she made several years ago and held up at an outdoor concert in a Los Angeles park. But the D.C. rally sign was also inspired by Fonsberg, 25, who had been her intern at Lox Club.
He told her on the drive to the rally — they and four others had rented a car — what he had in mind. Raum had bought the poster paper the night before, and they sketched out their ideas in the back seat. 
When they arrived in D.C., the group found a parking garage for the rental, used the hood of the car as an easel and finished their designs in Sharpie. 
On the Mall, she said, people came up to her and said they wish they had thought to make a sign like hers. Others said they had been talking about how the rally, an unusually large number of Jews in one place, would not be a bad place for some of those Jews to meet up. 
Some mothers and grandmothers pointed out their sons and grandsons (never their daughters or granddaughters, she said) in the crowd and assured her they were single. Several young men gave her their business cards, also assured her they were single, and asked her to call them. And as many as 100 people stopped her to take a picture of her for their friends.
Raum declined requests to share her name that day, suggesting that people instead check out her Instagram account — she wrote her handle at the bottom of her poster.
 After she returned to New York, she received a message from a young man in Washington, inviting her to a party because, he wrote, "You're making the rounds in all the D.C. Jewish boys group chats. We're all obsessed with you and your sign."
 But some people don't know when to stop.
"There have been people who have been messaging me every day since the rally whom I haven't responded to. They're just saying, 'Hey, am I eligible?' And sometimes I'm even getting messages from non-Jewish people asking if I would be interested in them. I'm just not replying."
 Raum said the sign has not led to an actual date. 
"I really wasn't looking for one though," she said. "I don't have a boyfriend but I'm happy in my dating life in New York."
The post That woman with the 'I'm single' sign at the Israel rally? She wasn't really looking for a husband appeared first on The Forward.
The post That woman with the 'I'm single' sign at the Israel rally? She wasn't really looking for a husband first appeared on The News And Times – thenewsandtimes.com.